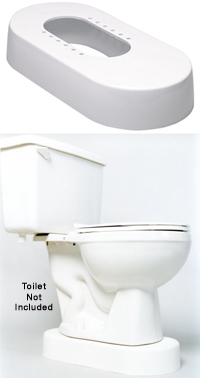 Solution ComfortSeat&reg 3 Inch Tall ADA Toilet Platform (SCS-20)
A heavy-duty platform that makes the entire toilet 3" taller for physically challenged users.


Has it become painful, difficult, or impossible to transfer on and off of the toilet because it is too short? The Solution ComfortSeat&reg 3" ADA Toilet Platform installs underneath the existing toilet, raising it a whole 3" higher, and is compatible with most standard North American toilets. Adjustable soil pipe, two wax sealing rings, heavy-duty marine-quality Austenite 300 Series stainless steel mounting bolts, and other related hook-up parts are included. Once bolted together, you get a seamless and scure seal, that will last for years.

Made of a heavy-duty polymer, it resists stains, scraches, can be painted with specialty paint, and supports over 1000 lbs. of weight. This platform is easier to maintain, less obtrusive looking, and requires much less maintenance than under-seat risers. It's compatible with all of our Solution ComfortSeat&reg toileting aids, and the Bariatric Toilet Seat.



Click To View Solution ComfortSeat ADA Toilet Platform Diagram


ADA Compliant 3" High Toilet Platform - Item# SCS-20
Price: $149.95
S&H: $20 within 48 contiguous United States


Click here to see if this unit is right for you. Have any questions? Click here for help!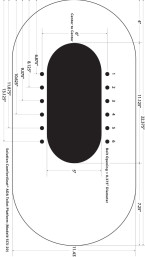 Click To View
SCS-20 Diagram